We planned to start to Kanyakumari from Thiruvanathapuram(tvm) by 5 AM so that we could see the sun rise at India's southern-most tip. But as usual, we got delayed! And we left by about 5.45AM. Our rides consisted of my Fz and a friend's Hunk. There were 4 of us - Arun Elias, Dhanoop Bhaskar, Basil Kuriakose and myself.
We rode through Kanyakumari-Panvel road. We reached Neyyattinkara and had breakfast from a small hotel. We crossed Amaravila checkpost and very soon the surroundings started to resemble Tamil Nadu.
By about 8 we were only half way when we reached this place: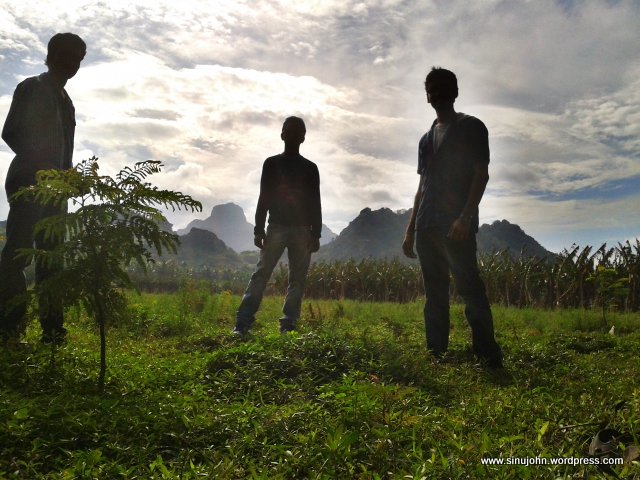 Its a little after the Kumaracoil junction. Here we saw beautiful peaks that touched the clouds. The moment we saw this we changed our route. And we reached Mambazhathuraiyar Resevoir. (To reach this place: after Kumaracoil junction, drive on the Kanyakumari route, you'll see an overbridge(actually an aquaduct), and just before that on to the left you can see the road that leads to the reservoir). The road goes through a very beautiful place. We spent some time at the reservoir.
Our aim was the top of the peak so we kept going in that direction. We saw Noorul Islam Engineering College and took the right turn that immediately follows it. This road went high up till it almost reached a dead end. Here there was a small temple. After this, there was no more road as such. But there was a muddy lane which went steeply up. After about 400 metres I found a gate on which it was written- Naga Hills. Here we found a Malayali, who was generous enough to allow us to bath in a small forest lake-cum-waterfall (it was on his property). He also said many stories and places to see around that area. It was he who gave us our next location - Kaattadi hills/Mt.Devasahayam. But we couldn't reach the top of the hill. There was no road that led there and we had to trek about 4km. Since we didn't carry any food with us, we dropped that plan.
After the trekking we continued our journey. We took a left turn at Nagercoil(actually before Nagercoil, even though we meant to take the left at Nagercoil), and rode in Thirunelveli route.
After about 15km we reached Mt.Devasahayam. It was here that Vedasakshi Devasahayam Pilla got killed. Above this hill, there is a rock, which produces the sound of a bell. Legend is that, Mr.Pilla was killed by a King for being a Christian. He was killed on this hill. No one knew about this murder. Then a rock fell and a clinging noise was heard throughout the forest. The villagers nearby inspected the place and found the dead man. Its this rock thats preserved over here. We did strike the rock with small stones, and it did produce bell sound! From above Mt.Devasahayam we saw hundreds of wind mills. So our next destination was Kanya Spin(I can't find this place in Google Maps, but it seems to be Muppandal Wind Farm). And after reaching that place, we were awestruck. We didn't imagine that thing to be so huge! The place had very little trees and the wind was blowing at a high speed. After spending some time there, we started off to Kanyakumari by about 3.30PM!
We rode to Kanyakumari on Thirunelveli-Kanyakumari route(NH7 that leads connects Kanyakumari and Salem). There are no words to describe that ride. The road is simply superb! We were welcomed by wind mills on both sides for some distance. The wind was so strong that sometimes we were almost blown away!
And finally we reached Kanyakumari by 4.15PM. But alas, we coudn't get to Vivekananda rock, as tickets are issued only till 4PM. But we had more than what we thought we would have on that trip. We spent some time at Kanyakumari. Almost dozed off watching the sea. Saw the sunset at one of the world's rarest places (the place where 3 seas merge). And finally took the return ride at about 8PM.
The 204km trip we had imagined went to 264km by the time we reached our rooms!
(In this trip we didn't go to the usual tourist locations like Padmanabhapuram Palace, Fort etc. We coudn't find time! Instead we gladly explored the village/hilly areas)
---